Inspiration can come from many sources. In my younger days I was inspired by the artistry of players of instruments other than the trombone – particularly Mstislav Rostropovich, Nadja Salerno-Sonnenberg, singers like Fritz Wunderlich, Dawn Upshaw, Frederica Von Stade (and again), Elisabeth Schwarzkopf. These and countless others helped form my musical DNA; and of course this is not by any means an exclusive list, simply some of the first names to come to mind. It is stimulating simply to make this list and remember these early influences, so there is clearly something powerful about going through this exercise.
Lately, though, as I have been seeking to nourish my muse I have found inspiration coming from places outside of the music world. NYC painter Dannielle Tegeder's exhibit last spring and summer at Hamilton College – particularly the Library of Abstract Sound, a series of at least 88 beautiful and evocative drawings Dannielle created using techniques of mechanical drawing – five of these in the photo below: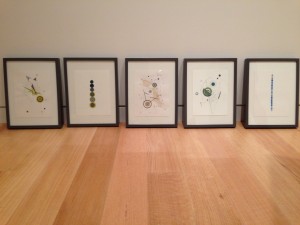 The form, elegance, order, sense of proportion and balance, and the interconnectedness of these pieces all make my brain patterns settle into greater coherence. And the technique and precision in their execution are values equally important to my personal aesthetic. The patterns, while abstract, are universal and require no explanation. And they are profoundly musical in that they are harmonious and exhibit the above-noted qualities.
The other realm that has provided me with much inspiration of late is dance. At various times I've been attracted to the grace, fluidity, elegance, and dynamic kinesthetic nature of great classical and modern dance, but regretfully have given myself only limited opportunities to explore that further. But, no time like the present! So I am resuming my previously minimal past experience of taking dance class. My earlier study was under the guidance of the remarkable dancer and choreographer Patrice Regnier, who continues to inspire. Now I am grateful to Nancy Long and Lynn Vance Bollana at the Munson Willliams Proctor Art Institute for taking me into their class, where my neurons are being continually stimulated by attempting new things and studying grace and poise so directly.
New learning experiences put one in a position to see the world differently. So it was at Friday's Society for New Music concert, where the amazing Alvin Ailey principal dancer Aisha Mitchell collaborated with the SNM ensemble on a work by composer Gregory Wanamaker from the Crane School of Music. Her strength, elegance, complete body control and poise, and the sheer power of her presence onstage truly demonstrated the potential of nonverbal gestural communication.
Even picking up a homely but sweet sounding older small bore Bach trombone this weekend to play with has opened up new experiences for me – even as it brings me back to my trombone roots.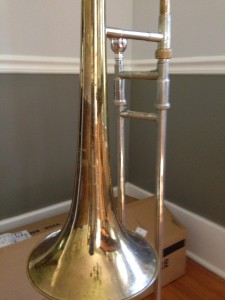 The path of inspiration is endless as long as we are open to it and actively searching for it, even – perhaps especially – when we don't know where exactly it leads.